Our blog is reader-supported, if you purchase any products through the links below we may receive a small commission. Learn more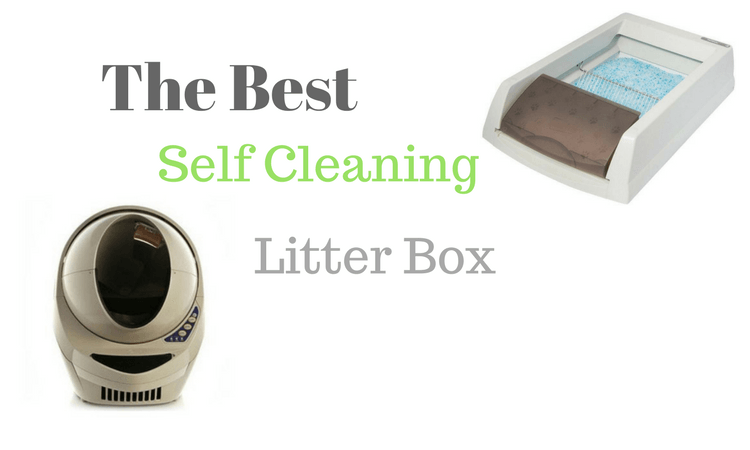 We've all been there, you come home from work and the first thing you smell when you walk into your house is the smell of a dirty litter box. Sound familiar?
You wouldn't be alone us cat owners all experience this and sometimes you just can't be bothered to change cat litter as it's one of them jobs that we all like to "put off" but we've got to do it as a responsible pet owner.
What if there was a way round this? well, there is in the form of a self cleaning litter box!
In this article, I'm going to review both semi-automatic and automatic self cleaning litter boxes and look at the pros and cons and which is the best value and most efficient litter box on the market.
What is a Self Cleaning Litter Box?
A self cleaning litter box is exactly what the title suggests, it's a mechanical system that clears the large clumps from the litter and typically moves these into a box or bag ready for disposal.
There are many different kinds of self cleaning litter boxes, some are fully automatic and typically have a rake that sifts through the litter and removes the waste into a tray. They have motion sensors to detect if your cat is in the litter tray and generally don't operate for around 20 minutes after your cat has used the litter box. Some automatic litter boxes have a rotating drum like the Litter Robot which then filters the waste into a chamber underneath.
Do You Need a Self Cleaning Litter Box?
This entirely depends on a few factors;
Do you work long hours or spend a lengthy amount of time away from home?
Do you have more than one cat?
Do you HATE cleaning cat litter?
If you answered yes to any of the above then a self cleaning litter box will more than likely revolutionise your home and provide you with a more hygienic place to live.
Let's face it, cleaning a litter box out by hand isn't difficult but it isn't pleasant either, it's something that you sign up for when you buy a cat and most of us don't know any different. You just get "used" to doing it. I think one of the main benefits of a automatic litter box is the time it saves you, especially with today's hectic society we're all too busy rushing around to take care of the small things.
The hygiene element is very important, the longer the faeces stay in the box the more germs that can be spread around your house by your cat​. This is where an automatic litter box comes in by removing the faeces and keeping your litter box in a more hygienic state.
Fully Automatic or Semi-Automatic Litter Box?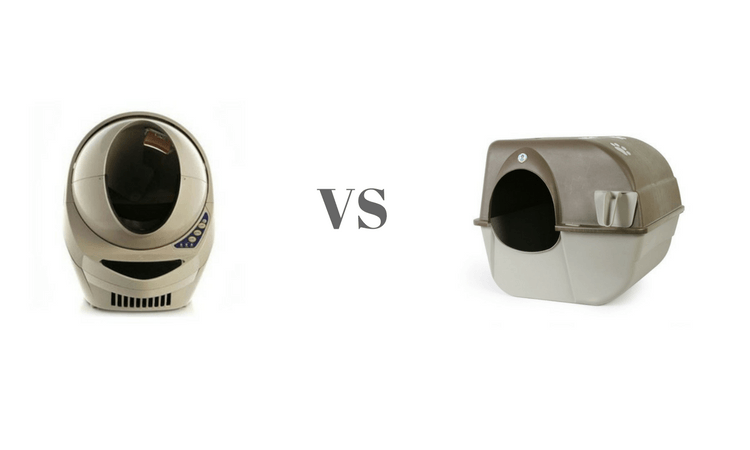 There are two different kinds of self cleaning litter boxes available on the market, these are fully automatic and semi-automatic versions.
First, we'll look at the fully automatic version and weigh up the pros and cons.
Fully Automatic Litter box
Most automatic litter boxes require very little user attention other than plugging them in and assuring there's enough litter in the tray. An automatic litter box will in general use much less litter than a conventional litter box.
An automatic litter box will usually be powered by electricity or battery operated and will typically have a rake that clears the waste from the litter box. The Litter Robot works differently by using a drum which rotates and the waste is then sifted into a tray under the drum.
Automatic litter boxes have special motion sensors to detect whether or not your cat is in the litter tray before they clean it. Usually, the rake or drum won't start cleaning for at least 20 minutes after your cat has used the tray.
It's important to note that most self cleaning automatic litter boxes will require some form of power supply, normally via mains electricity. This is something worth considering before you purchase a new automatic litter box.
Cats can often be quite picky when it comes to their litter and litter boxes so it can take a while for a cat to get used to their new litter box. This is entirely dependant on your cat some will take to the new litter box quickly and others might take a while longer.
My own cats adapted instantly to their new litter boxes and I've had no issues since.
Pros
Fully automated
Uses less litter
Clean and hygienic
Great if you're away from home a lot
Controls odour better
Cons
Can be expensive
Some require plumbing
Can be big and bulky
Semi-Automatic Litter Box
The main difference with a semi-automatic litter box is that you're required to get more "hands on" often you will need to rotate the litter box or initiate the cleaning process.
If you think of these self cleaning litter boxes as being semi automatic, having no power to operate them. It's worth noting they're much more automated than a standard litter tray.
A semi-automatic litter box will generally use less litter than a normal litter tray.
Something that's often overlooked with a semi-automatic litter box is the fact they're easy to move around the house as they don't require a mains power point.
​Semi-automatic litter boxes can be a great cheaper option than their fully automatic counterparts if your budget doesn't quite stretch to a fully automatic version a manual version can be a great cheaper option.
Pros
Cheap to buy
Portable
No on going costs
Cons
Require manual input
Uses slightly more litter
Not as hygienic
Choosing The Best Self Cleaning Litter Box
As with anything your purchase it's very important to do your research to ensure you're buying a product that fits your needs. The whole purpose of this post is to help you make an informed buying decision.
Budget– Ultimately your budget will determine which automatic litter box you choose as there's a vast difference between some litter boxes.
Number of cats– If you have more than one cat certain litter boxes will be more suited to your needs than single cat households.
Size– How much space do you have in your house or apartment? Some litter boxes are larger than others and some are slightly odd shaped so these don't bode well if you have a small apartment or have very limited space.
Ongoing Costs– Some self cleaning litter boxes will require you to buy litter refill trays or some form of waste disposal unit. This is obviously something you need to consider.
Maintenance – How easy is the self cleaning litter box to maintain? does it require you to clean the rakes out every once in a while? How much litter will it require?
Usability– Is the litter box easy and straightforward to use for you and your cat? we all know how fussy cats can be and some just don't like change. If you have a 15- year-old cat that's always used a traditional litter tray then getting him/her to use a self cleaning litter box could be more of a challenge (that's not to say it will be though).
After reviewing and trialing most of the litter boxes on the market, there are only two fully automatic litter boxes I can recommend. This is based on over 2 years' worth of testing, a lot of the others were either poor or unreliable. The two options are the Litter Robot III Open Air or the PetSafe ScoopFree Ultra Litter Box, I will be reviewing them in detail below to help you make that all important decision.
#1 Litter Robot III Open-Air
​You may have heard the hype regarding the Litter Robot III Open Air and in my opinion, its warranted as this is definitely the best self cleaning litter box on the market today.
​This is the 3rd generation of the Litter Robot and it's packed with unique features, the new features include;
Built in Nightlight
New dome shaped, making access easier for your cat
Bigger waste drawer
Quieter in operation
The Litter Robot is a truly automatic system and the most automated litter box on the market.
​At first glance, it does look like something from out of space but when you look at the design you realise that it's shaped in a perfect way to allow your cat sufficient access. This litter box is the best on the market for multi-cat households and cats of all sizes.
​The litter robot III open air has sensors which know when your cat has been and used the litter and it won't start the cleaning process until your cat has left the litter box. If your cat enters the litter box whilst cleaning is taking place the litter robot will automatically stop the cleaning cycle.
​The cleaning process is unique and effective, the drum part of the litter robot rotates once your cat has left the drum and sifts the clumps of litter from the clean litter and filters the clumps into a draw which has a carbon filter for ultimate hygiene.
​There is a timer on the litter box for 3, 7, or 15 minutes after your cat has finished and left the litter box to start the cleaning process. The waste drawer also contains a blue light indicator which flashes when the drawer is full. The litter robot has one of the largest waste draws on the market making it perfect for multiple cats.
​There's a feature to lock the controls to stop children and curious pets from altering any settings.
​Most of the reviews I've found online all seem to paint the litter robot as being the perfect solution and don't really cover any downsides. Obviously, no product is perfect and the litter robot does have some downsides, in my opinion, one of the main downsides would be the size of the product and the fact that it does require a mains electric connection. Not an issue in most instances but you do need to factor in the small amount of electricity it may use.
​There is an optional battery backup that you can purchase that lasts for up to 48 hours, great as a reserve power supply in the event of a power cut.​
​It does carry a fairly large price tag as well, although when you factor in that you will use less litter and it will save you time it does (sort of) justify this.
​Overall a brilliant product that is currently the market leader by a considerable distance. It will save you a lot of time, effort and keep your house from having that "cat litter" smell.
​The litter robot comes with an 18-month warranty and a 90-day money back guarantee for peace of mind or if you have any problems.
Pros
Fully automated
Ideal for multiple cats
Automatic nightlight
Quiet in operation
Adjustable timed cleaning cycles
Drawer full indicator
Saves money on litter
18-month warranty
90-day money back guarantee
Cons
Requires mains electricity
Expensive
Large bulky design
#2 PetSafe ScoopFree Ultra Self Cleaning Litter Box
The PetSafe ScoopFree Ultra is one of the most popular self cleaning litter boxes on the market, in my opinion, it is the best value self cleaning automatic litter box currently on sale.
It's designed to be the same size as a regular litter box so your cat shouldn't take much time to adapt to the size or shape. ​
​Aimed at 1-2 cat households this self cleaning litter box simply works by raking the clumps of litter into a covered trap. There's nothing too technical or sophisticated about the whole set up. The key to its success is due to the special absorbing litter that's provided in the replacement trays. The crystal litter is said to absorb odour up to 5 times more effective than traditional clay based litter. These trays typically last up to 30 days according to PetSafe, however looking at the reviews online some people did suggest changing them weekly.
The system works automatically and rakes the waste into a separate covered compartment typically 20 minutes after a cat has been and used the litter box. The litter box uses sensors which will automatically reset the rake system timer should a cat re-enter the box.​ The rake delay timer can be set to 5, 10 or 20 minute intervals after your cat uses the litter box (this feature is exclusive to the "ultra" version). The ultra version also has an health counter to track how often your cat uses the litter box.
​On the ScoopFree Ultra version you also get a privacy hood for your cat, which provides extra security if your cat is used to a hooded litter box.
There are a few downsides to this litter box, as with the Litter Robot it is electrically operated so will require a mains plug nearby which isn't always available in some bathrooms as I know quite a lot of cat owners keep their litter trays in a bathroom or closet.
The other main downside I see is with the actual trays, these may last a few weeks at most and they are fairly expensive to buy so you will have the ongoing cost to replace these. Although the initial purchase price is very reasonable the ongoing costs could be quite high. Just something to factor in before purchasing the litter box.
In some of the reviews, I've seen people suggest a workaround to buying the trays. You can buy a plastic reusable litter tray that fits under the litter box just like the cardboard PetSafe versions but this is a plastic box so you would empty the crystals out and reuse the box, therefore, you would only be buying the crystals which works out much more cost-efficient than buying the PetSafe replacement trays.
​Overall a brilliant cheaper alternative to the Litter Robot that will essentially do a similar job.
Pros
Great value for money
Fully automated
Brilliant odour and hygiene control
Quiet in operation
Adjustable cleaning cycle timer
Compact size
Cons
Ongoing tray costs
Not 100% effective in raking the litter
Requires mains electricity
Best Semi-Automatic Litter Box Reviews
As with the automatic litter box reviews, I'm going to review the best manual litter boxes or semi-automatic as I think they're best described. These litter boxes are ideal if you're on a limited budget but want something more efficient than a traditional litter box and scoop.
#1 Omega Paw Self Cleaning Litter Box
The Omega Paw litter box is a best seller on many of the popular retail sites, if you're looking for a great litter box solution but you're on a budget then look no further than the Omega Paw.
​Being a manual litter box it simply requires you to roll it over when your cat has been to the litter box and this, in turn, moves the clumps of waste into a compartment which then can be emptied.
​Obviously, if you don't mind doing some of the work then this is a brilliant solution and by far the most competitively price manual litter box on the market.​
​It's ideal for multi cat households and looking at most of the reviews online people rate this product highly in terms of build quality and effectiveness.​
Pros
Easy to set up and use
No ongoing costs
Great price- Ideal if you're on a tight budget
Ideal for multiple cats
Cons
Doesn't always sift on the first turn
Certain litter works better with this product
#2 Catit Design SmartSift Sifting Cat Litter Box
Catit Design SmartSift is a unique manual litter box, that basically requires you to pull a lever once per day to sift the litter.
​Once the lever is pulled the litter is then sifted removing any large particles or lumps of litter and storing these in a drawer. Catit state that you only need to empty the draw once per week, which will, of course, save you the hassle. This, of course, will depend on the number of cats you have.
​Built from high-quality materials the Catit Design Smartsift litter box is a great cost effective option. Due to the fact it doesn't require any electricity or the need to change filters or special litter I feel this product will pay for itself in the long run based on the fact you will use less litter.
​Having a door on the front helps control odour and gives your cat the privacy some cats require when using a litter box.
​A good quality manual litter box, slightly more expensive than the other manual litter boxes reviewed but some will feel this is justified by the ease of operation. A truly semi automatic litter box.
Pros
Easy to set up and use
No ongoing costs
Ideal for multiple cats
No electricity required
Built from high-quality materials
Contains odour very well
Cons
Expensive for a manual litter box
Getting The Most From Your Self Cleaning Litter Box
As with any product you buy there are certain things you can do to help maximise its effect and effieciency.
Below are some pointers to help you get the most from your new self cleaning litter box.
Introduction to the new litter box– As we all know cats can be quite stubborn when it comes to their litter boxes or anything in general. It's important to gradually ease your cat into its new litter box. The way you do this is by having the old litter box at the side of the new automatic one and your cat has the option to use either. In time your cat will start to use the new litter box and will always prefer a "clean" litter box.
Use the correct litter– Most self cleaning litter boxes state which is the best litter to use with the box to benefit from hygiene and for the box to operate to its maximum.
Maintaining your litter box– Although these litter boxes are automatic it's good practice to give them a clean to ensure nothing is obstructing any of the moving parts. By doing this you will ensure your litter box is reliable and serves you for many years to come.
Final Thoughts
A automatic litter box, in my opinion, is a great buy and an investment so to speak. If you value your time then it will definitely save you plenty of time and just make life easier in general if you lead a busy lifestyle.
The other main benefit I see other than a more hygienic, odourless house is for people who travel a lot for work or pleasure. I recently did a post on Cat Water Fountains and Automatic Cat Feeders and combined with these you really do have a set up where you can leave your cat at home for up to 5 days. Safely knowing they have ample water, food and their litter requirements are taken care of. Of course, it's good to have a neighbour, friend or family member to stop by and check on your cats if it's possible, especially if your cat is an only cat.
All of the above options are great choices and they will make life easier in general as well as provide your cat with a bit of a "luxury" after all cats love a clean litter box, something that isn't possible to maintain 100% of the time with a litter tray you need to scoop.
Ultimately the decision is yours on which automatic self cleaning litter box fits your budget and serves your needs the best. You won't regret your decision to purchase one (in my own experience). I hope this post helps you to make an informed buying decision. I'd love to know which litter box you have and your experiences with it, feel free to comment below.