Our blog is reader-supported, if you purchase any products through the links below we may receive a small commission. Learn more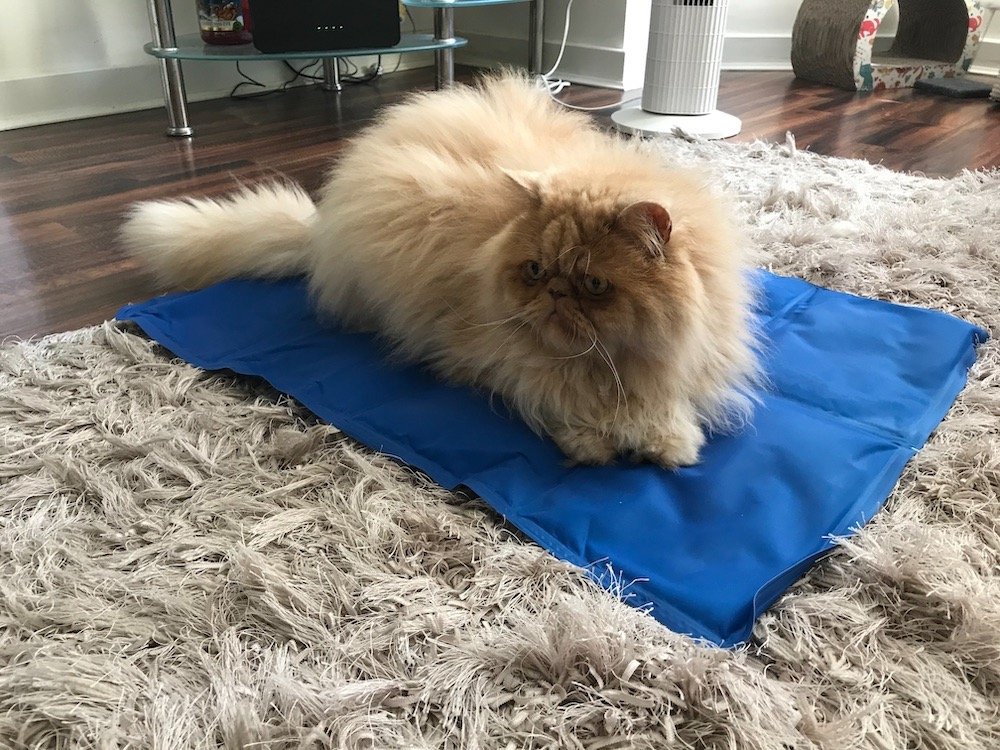 Where I live in Arizona, we get temperatures up to 112F or 44C in summer. So, it's hot. Most people here have either air conditioning or evaporative coolers to keep their homes cool, but some places don't get hot long enough to warrant one of these machines. A cooling pad for your cat would be great in these areas. Especially on an extra hot day where they might need someplace a bit cooler than their usual napping place.
Most cooling pads contain pressure-activated gel or water. They work best placed in a cool, dark area. Cats can take time getting used to new things in their environment, give your cat some time to get used to the new bed or pad.
These pads are scratch-resistant, but keep a check for any damage your cat might do, especially if they tear at the mat, my cat did manage to puncture one of these mats but I saw my cat do it so I was able to remove the mat. The gel inside is non-toxic, but your cat could suffer from stomach upset if they ingest it. In rare cases, other problems can occur. Best if your kitty doesn't get into it.
We've looked at a few cooling pads for cats, most marketed for dogs, so please bear with us if there is a dog in the cooling pad images. Anyway, we want to give you a choice of several so that you might find one that would work for you and your cat.
Best Cat Cooling Mats to Keep Your Cat Cool in the Hot Weather
Oh, and yes, I know this is a cat article, but most of the cooling pads had images of dogs on them or the pad alone. So, there are dogs in this post.
Our Top Choice: The Green Pet Shop Cat Cooling Pad
The Green Pet Shop has a great product that has been around for years. This pad will keep your cat relaxed and comfortable on hot days.
As mentioned above, this product is advertised for dogs, but it's for cats too.
Pros:
A patented pressure activated gel. It can provide cooling for up to four hours
It takes twenty to thirty minutes to refresh after your pet walks away
You won't have to mess with water or electricity with this pad. It's ready right out of the box
After the heat of the summer recedes, this pad folds so you can put it away
There are five different sizes, but your cat would probably need either a small or a medium
The gel is non-toxic, so if your cat ever got to the gel, it wouldn't hurt them. It's still a good idea to keep your cat from clawing or biting the pad
This pad is excellent for cats suffering from arthritis or some other painful affliction this pad can help make your cat get comfortable.
Cons:
Turn this pad regularly. If you don't, the gel will start solidifying.
Best For Multiple Pets: Arf Pets Pet Self Cooling Mat Pad
The solid-gel cooling mat is a long-lasting solution for keeping all your pets comfortable in the hottest, most humid conditions. This cushion is made from sturdy nylon and features an innovative cool gel interior. The gel will keep your cat calm and comfortable for up to three hours before it needs to rest and recharge. That is as simple as your animals not laying on it for a while to get it to react to them again. This pad needs no water, refrigeration, batteries, or electricity to make it work.
Pros:
It's pressure activated, so it will cool down when your kitty lays on it
Provide relief for about three hours and recharges in 20-30 minutes
The gel is non-toxic, and the entire product is latex-free, so it is 100% safe for cats
If it gets dirty, wipe it down with a damp rag
It comes in 3 different sizes, great if you have multiple cats in the home and only want one
The flexible mat folds out flat, but it super easy to pack up for storage or movement.
Cons:
Some pets don't like the texture of it. You may want to wrap it in a pillowcase.
Best Value For Money: Chillz Pressure Activated Pet Cooling Gel Pad
I know, I know, another dog on a cooling mat in a cat article. Sorry, but there were no images of the pad without a dog. However, if this pad works for dogs, it should work for cats, right?
This pad is pressure activated. Your kitty should find it nice and cool on a hot day. It will allow them to rest and relax.
Pros:
Pressure activated gel absorbs body heat when a cat lays on it
A great option for both indoor and outdoor use
No need for electricity or batteries. It will cool off and reset when you cat leaves
You can cool it off faster by freezing it or spraying it down with cold water
Non-toxic gel, so it's safe for cats and humans
There are two sizes available if you have multiple cats that may want to share.
Cons:
Gel-based models tend to clump up and can harden over time.
Best Water-Based Mat: K&H Cool Bed III
This mat works like the others. It absorbs the heat produced by your pet and coverts it to room temperature. The difference in this one is that you must add water to it to make it work. Use distilled water and grapefruit seed extract to minimize bacteria growth. You fill it with water once and use it, no need to empty and repeat the fill. It can be stored either full or empty.
Pros:
The Cool Bed III is twenty-two degrees cooler than your cat's body temperature
Comes in multiple sizes
The exterior is durable nylon and vinyl, so it holds up well
To activate the bed, add water.
Cons:
Filling the bed can be difficult. You may need help.
Best Heating and Cooling Mat: CoolPet Reusable Ice/Heat Pack Mat
This pad is a cover and a pack filled with distilled water. This pack can be frozen or heated, depending on what you need. Since this article is about cooling, you'd take the water pack and freeze it before sliding it into its cover for your pet to use. These water packs can be bought in multiples so you can always have one on hand for your cat's needs.
Pros:
The ice/heat pack contains distilled water, which makes it 100% non-toxic in case of a leak.
The exterior is a durable canvas that should hold up to your cat in case of clawing.
The bottom is a non-slip material.
Extra ice/heat packs are available for purchase for extended use.
​Cons:
You will need to heat or cool the packs for it to have any impact
Conclusion
There you have it. Most of these pads work the same. The choice comes down to preference and your specific requirements rather than the best one. They are an excellent idea for your cat when the weather turns hot. Especially long haired cats, such as the Persian. They hold the heat in their longer fur which raises their body temperature more in summer. My own Persian cat Milo loves to lay on the cooling pad as you can see from the pictures in this post.
What about you other cat owners out there? Have you used one of these pads? Did your cat like it? Please let us know below in the comments. We'd love to hear from you.