Our blog is reader-supported, if you purchase any products through the links below we may receive a small commission. Learn more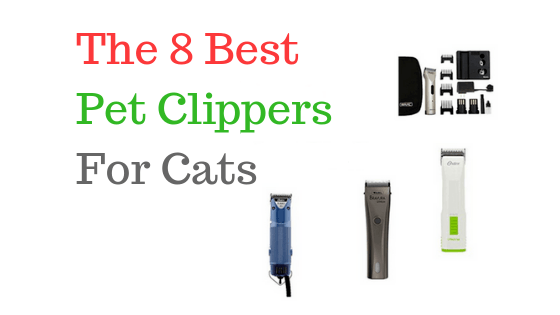 If you are the proud owner of a Persian cat then you will know how difficult it can be to keep their fur in good condition. You will need to groom your cat at least twice per week in order to keep their fur in tip-top shape. Here's the problem, no matter how much you brush your cat you will still get knots in their fur.

There are a couple of ways to get around this, firstly you can take your cat to a groomer but this will generally cost a lot of money and most cats just don't like going to the groomers. Your other option is to get your own pet clippers.

In this post, we will look at the best pet clippers for cats. There are a range of different pet clippers on the market and it is important to know that some are a lot better than others and make the process of grooming your cat a lot easier.
Can You Use Human Clippers For Pets?
Using human clippers to shave your cat is not a good idea there are a few reasons for this.
Firstly human clippers get a lot warmer than pet clippers and there's also the noise to factor into this as well. Not to mention that human hair is a different density to cat hair.

Which Are The Best Pet Clippers For Cats?
When looking for the best hair clipper it is important to note that the quality can differ vastly from product to product. I tried quite a few different products before purchasing my pet clippers. We'll look at the best pet clippers on the market for your cat.
If you are short on time and just want to know which are the best then you can find these below.
Our Pick: Wahl Professional ARCO Cordless Clipper Kit
Best Heavy-Duty Clipper: Oster Turbo A5 Professional Pet Clipper
Best Battery Life: Wahl Professional Animal Bravura Lithium-ion Clipper

#1: Wahl Professional ARCO Cordless Clipper Kit
The Wahl Professional Arco Cordless Clipper Kit as the name suggests is a professional grooming kit that you would find at any groomers you would take your cat to. This is, in my opinion, one of the best clippers on the market. Many professional groomers use Wahl and for good reason too. They are a very good product that is built to a high standard.

These clippers are lightweight and powerful, with the ability for 5500 Strokes per minute. They come with an adjustable 5 in 1 blade. The Professional Wahl clipper is also cool running which is very important for anybody who's looking to trim their cat's fur as they are sensitive to the heat that would be generated from human clippers. This clipper is wireless which for me is a big selling point of any pet clipper. Once you have trailing wires you are limited as to where you can trim your cat. It just makes the whole process that bit more difficult.

As we know cats don't like to stay in one place and when you try to trim their fur they will try and run off or move around. So being confined to a certain space with a wire just makes this process even more difficult than it already is.

Features​:
5,500 strokes per minute
Dual-charge battery packs
80 minute running time with a 75 minute full charge
'5 in 1' adjustable blade as well as 4 Snap-On guide combs
1 year limited professional warranty
#2: Wahl Professional Animal Bravura Lithium-ion Clipper
The Wahl Professional Animal Bravura comes with a lithium-ion battery and is a high-end pet clipper. This is a professional grade clipper which is capable of being used in a grooming parlour as well as at home.

The main difference and benefit between this clipper and the Wahl ARCO is the fact this version comes with a lithium battery which obviously gives it a better battery life and shorter charge time. Other than that there is not a lot of difference between the two products, you could say the Wahl ARCO Professional provides slightly better value for money but that does come at a cost of less running time and longer charging time. However, for the average user the Wahl ARCO is more than sufficient. Of course, if you are a professional groomer using the clippers day in day out then the Wahl Animal Bravura may be worth the extra investment.

This product is also wireless/wired so you get both options if and when you need them. Overall a great professional clipper that is perfect for use on your long-haired cat.

Features:
Cord/Cordless clipper
Lithium-ion powered
90 Minute run time
'5 in 1' Blade
Quiet in operation
60 minute charge time
1-year warranty
#3: Oster Turbo A5 Professional Pet Clipper
The Oster Turbo A5 professional pet clipper is a professional grooming tool that can be used for a range of different pets. It is said to be good for cats, dogs, horses and any other form of livestock.
The good thing about this product is you know you're getting something that's heavy duty and comes with a motor that's very powerful and doesn't get bogged down. Something I found with some of the lower end plastic clippers is that more often than not the motors are just not powerful enough to cut through thick fur such as the fur on a Persian cat. For long-haired cats with dense fur, you need a clipper that is designed to go that bit further.
This clipper has the ability to go to 4000 Strokes per minute which makes it perfect for tackling tough mats on your Persian cat. It comes with two different speeds there's a low-speed setting for fine grooming and a high-speed setting which is designed to tackle bigger body parts. Overall this is a brilliant product that is designed and made in the USA so you know you're getting a quality product that will last you many years to come.
The only downside I saw was some users stating that the Oster Turbo A5 does get warm after continued use.
The Oster A5 only narrowly missed out on second place due to it being a corded clipper but if that doesn't bother you then this heavy duty, powerful clipper is a great option.
Features​:

Multi-speed settings (both high and low)
Made in the USA from high-quality materials
1 Year warranty
#10 Cryogen-X detachable blade
#4: Oster Volt Cordless Pet Clipper
The Oster Volt Cordless Pet Clipper Comes with a lithium-ion battery for extended use and fast charging. Boasting 2 hours of running time this Oster volt cordless pet clipper has a low torque single speed motor that's designed for the toughest of mats.
It will also stay cool under operation which is ideal for cats as they will often get stressed out if they feel something warm on their skin. This is the real thing that differentiates this product from the other Oster product reviewed above.

This is a cordless pet clipper which gives you the flexibility to trim your cat wherever you need to and not needing a plug socket nearby. With its fast charge allowing you to charge this clipper in 60 minutes and with two hours of running time, this makes for an impressive unit.

Features:

Low torque motor 2,400 SPM
2-hour runtime
60 minute charge
Lithium-ion battery
Fully cordless
1 Year warranty
#10 Cryogen-X detachable blade
#5: Andis UltraEdge Super 2-Speed Detachable Blade Clipper
The Andis UltraEdge is a professional grade clipper. The two-speed rotary motor makes this a fast and high-quality clipper. You can switch between speeds depending on your needs. It is quiet, so pets will not be scared by any noise.
It is cool running, which is important for grooming pets. It includes a locking switch, so the clipper will not accidentally shut off while in use. Also, it includes a detachable blade which allows for easy changing and cleaning. This clipper works well for all breeds and coat lengths.
The clipper is attached to a 14 ft cord. Since this is a long cord, you can easily move around equipment as you use the clipper. This clipper includes a 10 blade which is useful for removing matted fur.
Features:
Two-speed rotary motor
Cool running
Locking switch
Detachable blade
Long 14 ft cord
#6: oneisall Pet Clipper Kit
The oneisall is a great budget option clipper coming with a Lithium-Ion battery, so you do get a lot for your money. Hailed as a dog clipper this kit is also ideal for your cat as dog hair tends to be more course than cat hair. Many people recommend this product highly and I know of a number of Persian cat owners who use this clipper and like it.
The kit comes with 6 different comb guides, a stainless steel comb, blade oil.
This clipper is said to be quiet and only emits 50 db of noise so your cat will be comfortable when you are grooming them.
With a charging time of 80 minutes and a running time of 80 minutes thanks to its Lithium-Ion battery, this clipper has the running time needed for any professional or home groomer.
Features:
Quiet motor (50 db)
Lithium-Ion battery
Good for thick coats
Detachable blade
Includes 6 comb guides
80 minute charge time
80 minute running time
#7: Wahl Clipper Pet-Pro Pet Clipper
The Wahl Clipper Pet-Pro is a heavy-duty grooming kit. This product includes a clipper, guide combs, styling combs, scissors, mirror, oil, and cleaning brush. This is an excellent choice for anyone who wants a budget clipper. But, the price point does not mean this is not a high-quality grooming kit.
This clipper is made with carbon steel self-sharpening blades which stay sharp for a long period of time. The guide combs make it easy to trim to the desired fur length.
With a Powerdrive motor, this clipper is equipped to handle thick coats. But, the motor is quiet so your pet won't be scared by the clipper's noise. Also, it is an easy loading clipper, which helps prevent fur snags. This kit includes everything for an all over trim.
Features:
Complete grooming kit
Affordable price point
Powerdrive motor so it can handle thick coats
Won't pull fur
Quiet clipper
#8: Wahl Home Pet Pro-series Complete Pet Clipper Kit
The Wahl Home Pet Pro-series is a more basic hair clipper that is designed primarily for home use. That is not to say that this isn't a good product because it is but it isn't a heavy duty product as per the other hair clippers above. This is more of a budget hair clipper but still of good enough quality to use on your Persian cat.

This clipper is both corded and cordless which gives you both options to use and is said to have a self- sharpening blade so there is no need to replace the blade.

With a 45 minute run time and a 45 minute charge time, it makes this ideal for clipping out small mats but if you're doing any extensive work you may need to charge it more than once.

Features:
Self-sharpening blade
Prodrive motor that's designed for the thickest hair
Corded/cordless
Quiet in operation
Now that we have looked at these reviews, let's discuss which clippers are best for different situations. It is important to know what you are looking for in a clipper. Does your cat have long fur? Is it frequently matted? There are different clippers that will work best for these scenarios.
Which Cat Clippers are the Best for Matted Fur?
Persian cats and other long-haired cats can easily experience matted fur. Their hair is beautiful and soft when properly groomed. But, if grooming is neglected, mats can occur. And it is important to remove these mats as they can become painful to your cat.
When removing a mat, it is best to use clippers or a grooming brush. It is too easy to cut your cat's skin with scissors. As you clip out the mat, make sure you pull their skin flat. Be slow and careful not to knick their skin.
The best clippers for matted fur are cool running and quiet. Also, you should be able to hold a good grip on the clippers so they don't slip as your use them.
Of the clippers we discussed above, the Oster Volt Cordless Pet Clipper and Andis UltraEdge Super 2-Speed Detachable Blade Clipper are best for removing cat mats.
The Oster is a cordless clipper that stays very cool. The Andis has a 14ft cord and a 10 blade, which allows it to remove thick mats.
Which are the Best Cat Clippers for Persian Cats?
Persian cats have long thick hair. So, it is important to choose a clipper that can handle their fur. Also, they can get scared easily so make sure you pick a quiet clipper.
Any of the clippers we discussed in this article would work well for Persian cats. But, the Oster Turbo A5 Professional Pet Clipper is one of the best options for Persian cats.
This clipper is equipped with a high-powered motor. It is a top choice for many professional groomers. Its dual-speed blades allow for precision trimming of your Persian cat's thick fur. Just be aware, it can get warm with continued use. So, make sure you don't groom your cat for too long. Take a short break if the blades are getting too warm.
Which are the Most Effective Cat Clippers for Long-Haired Cats?
As we discussed previously, long-haired cats (like Persian cats) can easily develop mats in their fur. So, it is important that you regularly groom your cat.
When you are picking a clipper for long-haired cats, make sure you choose one that stays cool. Also, it should be able to handle your pet's thick fur.
The Wahl Professional Animal Bravura Lithium-ion Clipper is one of the best clippers for long-haired cats. This clipper stays cool and is quiet. Also, it has a powerful motor, which allows you to easily trim long-haired cats. The kit includes multiple comb guides, so you can trim their long fur very precisely.
When you are picking your clipper, make sure you think about your cat's temperament in addition to their fur. Grooming can be stressful for your cat. So you want to make this process as smooth as possible. This can be a long process, especially if you are grooming a long-haired cat. So, make sure you pick clippers that are cool running, quiet, and have a powerful motor.
Best Cat Clippers Video Review
Conclusion
Any of the above clippers are the best cat clippers for matted fur, in my opinion. These are all specifically designed to tackle tough mats and tangles that you will find on your Persian cat or any long-haired cat for that matter.
You will either need to take your Persian cat to a groomer or groom your cat yourself. The odds are your Persian cat will develop knots and tangles at some point and having professional clippers is very useful and it is something that I found to be a great way to control the number of mats my Persian cat gets.

Some of the above pet clippers are not the cheapest but they are the best at their job and what I found after testing quite a few different pet clippers is some of them just don't cut it (pun intended!). If they have a plastic blade more than likely these will not cut the dense thick fur of a Persian cat and they will actually just pull the hair causing pain and irritation to your cat.

Finding the best pet clippers is certainly not an easy task and but it's one that can make a massive difference to whether or not they are successful on both keeping your cats fur in good condition but also cutting out difficult mats from your Persian cat's fur.

The way I see it you either spend money to take your cat to the groomer or you spend money on a solution that will last for many years I opted for the latter, and I've been very happy with my purchase ever since. In my opinion, a good professional set of pet clippers for matted fur should be in any Persian cat owners toolkit.