Our blog is reader-supported, if you purchase any products through the links below we may receive a small commission. Learn more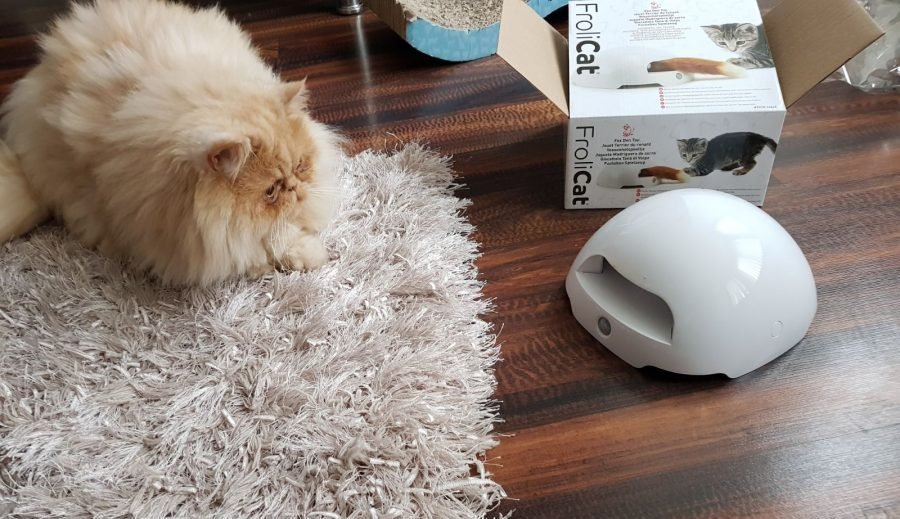 I was asked by PetSafe if I was interested in reviewing their new Frolicat Fox Den toy. I didn't hesitate to say yes as I've reviewed some of their products before and actually use some of them myself and overall I've found the products to be fairly decent.
Although I have been supplied this toy for free by PetSafe to review I've not been paid so this isn't a sponsored post and as always my review will be honest and unbiased as you would expect.
As most cat owners will know finding a product that keeps your cat entertained can be a challenge, this was the reason I was excited to review this product as it looked like something that could potentially keep them entertained and playing for hours.
What is the Frolicat Fox Den Toy and How Does it Work?
The Frolicat Fox Den toy is a cat teaser that has a fur fox tail that spins in and out of a hole and works with a motion sensor to keep your cat intrigued.
The realistic looking tail will shoot out of the hole and wiggle around and then it spins back into the hole encouraging your cat to chase the tail into the hole as it would if it was chasing a mouse or small prey.
There is a "play all day" mode and when turned on the motion sensor detects when your cat is near and begins making a noise to entice your cat and then the tail will spin in and out. A timer automatically turns the toy off after 10 minutes if your cat doesn't play with it.
You can read some of the reviews on Amazon and learn more here
.
What is The Frolicat Fox Den Like?
Let's start with the actual box and packaging, it's neatly packed into a small box that includes an instruction manual. You do need 3 x AA batteries that aren't included so this is worth noting. I know most products don't tend to have batteries and they generally don't cost much but it can be an inconvenience to get home after buying a product and realise you then need to raid the TV remote or worse still you need to nip out to the shop to purchase some.
The product itself feels quite well-built and solid. Some cat toys just feel very flimsy and seem like they won't stand up to much wear and tear but this seems like its made to last.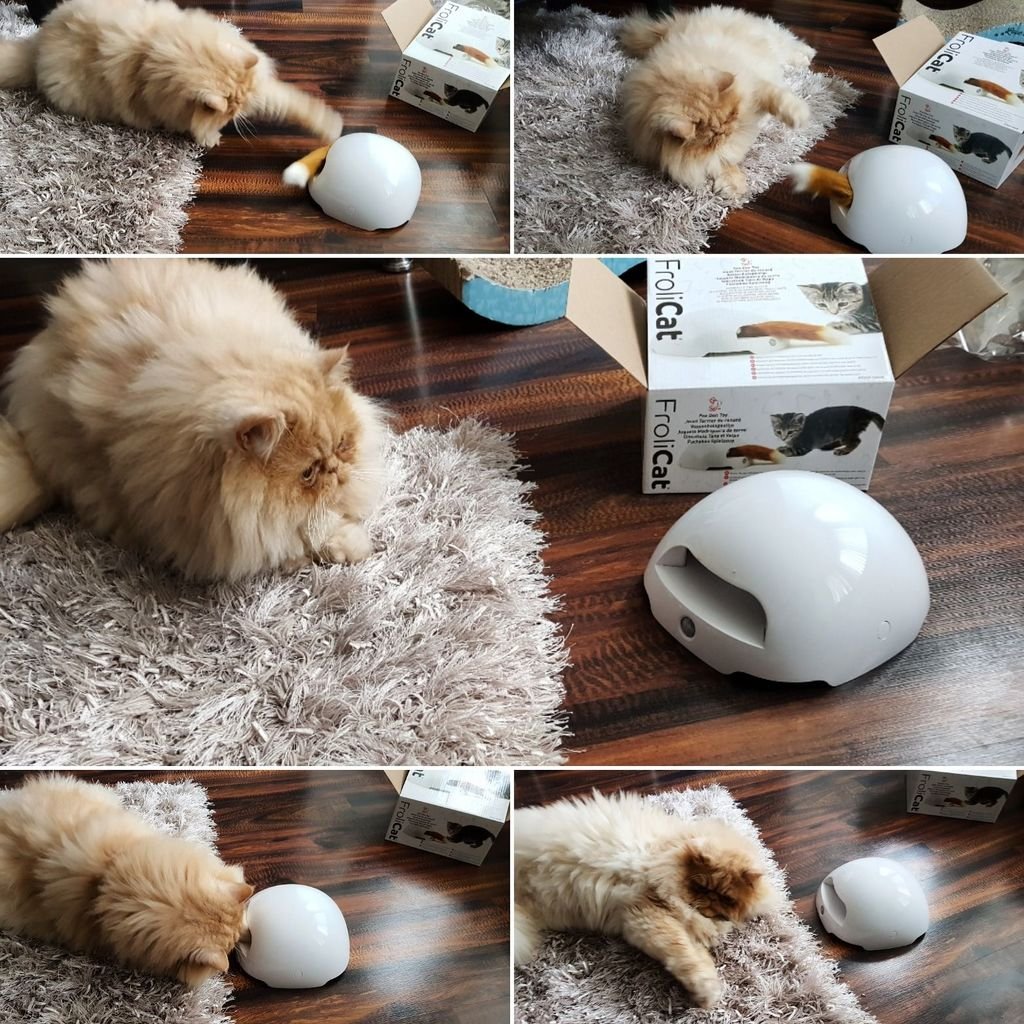 As you can see from the montage of images above Milo was intrigued by the Frolicat Fox Den and it wasn't long before he was sat poking his paw into the hole and trying to bite the fox tail.
The toy is fairly noisy when it's in operation so it isn't something you could put on whilst watching TV as the noise would become intrusive. It was a little noisier than I was expecting but it isn't too noisy that it would wake the neighbours up!
It's worth noting that although Milo my Persian cat was playing with the toy after a few minutes of unboxing it my other cat Teddy was actually scared of the toy. Teddy by nature can be a little timid to new things and he does take a while to adapt, whereas Milo is always up for a challenge.
If you have a cat that is a little reserved and shy then it may take your cat a little time to adjust to this toy. Teddy did start to poke around when the toy was turned off but this did take nearly a day for him to come around and he hasn't properly played with the toy yet.
Frolicat Fox Den Video Review
Disadvantages
There are a few disadvantages in my opinion and the first would be the price point, although this is certainly a good cat toy I feel it's leaning slightly on the expensive side. Also a minor gripe of mine but I think batteries should be included, I know some companies don't provide them due to transportation issues but in general it would be nice.
I read an Amazon review where someone stated that their cat had got their paw stuck inside the toy where the fox tail goes inside the toy and they needed to cut the fox tail off to untrap their cat's paw. Obviously, anything regarding safety is a concern and I had a close look at the toy to see if there is a genuine concern or whether or not this was a one-off occurrence.
I must say that it's certainly possible for your cat to force its paw into the hole but it's unlikely to get stuck and your cat will pull their paw out very fast before this happens. As I said this was only mentioned once in the reviews but it's enough for me to mention it in this review.
Final Thoughts
I've only had this toy for one day and it has kept Milo busy most of the day. Will this become a toy that sits there taking up space as most tend to do after a few weeks? who knows. I have a feeling that this will be one of those toys that your cat plays with on a regular basis and keeps them entertained when all else fails.
I like that this toy is something a bit different from the generic cat toys out there that all seem to do the same thing.
I'll keep you posted and may do a long-term update to this post to advise you how I've found it and if the interest is still there.
I previously wrote a post reviewing the best cat toys for your Persian cat, you can read it here.